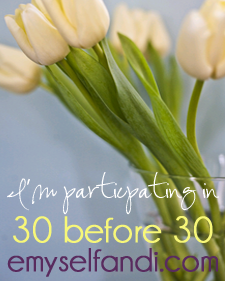 WOW
...I have been
REALLY
avoiding any thoughts of me
EVER turning
30
...and, when I decided to do this list I realized that I am only
a little over
17 months
-
517 days to be exact
- away from the very
dreaded 30th birthday
!
OH. MY. WORD!!!!!
Now, for all of you that are rolling your eyes at my depression of turning
30
...
I know life does not end at
30
- I am just completely not looking forward to it!!
So before depression completely sets in, and I am unable to type this, these are the things that I would really love to accomplish before September 5, 2011. Some are life long aspirations, some are quirky little things that I want to do just because, and some are things that are Spirit led that I need to do.
In no particular order of importance...my
30 things before turning 30:
1. Take a cake decorating class
2. Become much more "picture taking" and "editing" literate
3. Learn how to can food
4. Learn to drive a stick shift (Brad would be SO PROUD!!)
5. Make pasta from scratch
6. Become a mother
7. Visit the Amish Country
8. Go on a weeklong vacation with Brad that is far enough away it would require a plane, train, or boat to get there
9. Attend
Beth Moore LIVE! in Atlanta
10. Go to at least one Auburn game this fall…I so miss being on the Plains on Gameday!!
11. Have a Girl's Night with my best girlfriends from High School
12. Be accepted into Graduate School
13. Complete my Master's Degree
14. Have Brad at least 2/3 finished with Seminary
15. See 2 people that I have been praying fervently for to find salvation!!
16. See one of my dearest friends become a Mrs.!!
17. Plant a vegetable garden
18. Become part of a
CSA
19. Get a puppy
20. Shed enough pounds and inches to wear the dress I wore on mine and Brad's 1st date (yes, I'm pathetic…9 years later and I still have it!)
21. Start recycling
22. Organize and preserve my digital photos
23. Make
Pioneer Woman's Cinnamon Rolls
(This is completely contradicting #20, but this was the first recipe that I ever heard about before I even knew who or what Pioneer Woman was, and ever since then I have wanted to make these!)
24. Redo landscaping around house and pool
25. Complete at least one of the projects off my Home Improvement Wish List (yes, it's a sickness…I have lists for lists!)
26. See the movie
"Blindside"
(no, I have still NOT seen it!)
27. Go on a picnic with Brad
28. Make an effort to call or send a card once a week to someone for encouragement
29. De-clutter. Organize. Simplify.
30. Consciously remind myself to find joy in every day!
There you go...that's a lot to cover in a little less than a year and a half, but completely doable! I better get busy! As I check things off my list, I'll be sure to post about it...so stay tuned!